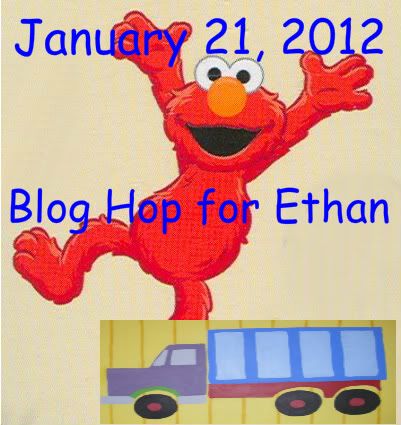 Welcome to Blog Hop for Ethan Pinter. He is a boy that is very sick. Here is a bio from his mom, Melissa Pinter: My name is Melissa Pinter and I have a 2 year old son name Ethan Pinter who was diagnosed with a rare liver disease called Biliary Atresia att the age of two months old. This is a rare disease because he was not born with Bio Ducts. So Dr. Pintinger and the Akron Children's Team reconstructed them and the procedure was called a Kasi. So at the age of 8 months old Ethan and I were Life flighted to Cincinnati Children's because he had Upper GI bleeds. The only thing that woud help him would be a New liver. Feb 18th 2011 he had recieved a half of another babies liver. This baby saved my son's life and we are so ever so greatful. Ethan and I had waited a total of 9 months for this. We have been seperated from my husband and daughter during that time. Ethan is now 2 years old and is having complications and we are currently living at the Ronald Mcdonald House in Cincinnati till we get him better. He has two crucial virus's that he is currently fighting, they are the EBV Virus and CMV Illuminitis (Fatal Virus- it attacks every organ) .
That being said, we are making "Get Well" cards to send to Ethan, and you all are invited to make one, too! You should have come from the talented Becky; if not, please go back to

Jenn's Blog

to start at the beginning of the hop!
Here is the card I made for my newest Little Buddy:
This has to be one of my favorite cards I've EVER made!! I LOVE Elmo (though probably not as much as Ethan), and I LOVE these tri-shutter cards!!! I used absolutely nothing more than my paper trimmer, a pair of scissors, glue, my Cuttlebug and my printer for this card! For directions on how to make the tri-shutter card, go to this link: http://www.splitcoaststampers.com/resources/tutorials/trishuttercard/
So, that's my card for Ethan (Mel, it will be coming your way SOON!!) and I hope you liked it! If you, too, would like to send Ethan a card, the address to send them to is:
Melissa Pinter
Ronald Mcdonald House Room 17
350 Erkenbrecher Ave
Cincinnati Ohio 45229
Hope you have enjoyed hopping along with us!!!
I am the last stop on the hop, but if you missed anyone, here is the entire lineup so you can go back and look!
Jenn
www.memorieswithjen.blogspot.com/
Courtney
www.craftingwithcourtney.blogspot.com
Tina C.
www.tinasscrapcorner.blogspot.com
Tina K (Crafty and Green)
http://craftyangreen.blogspot.com
Michelle Ferris -
http://slasewcraftiness.blogspot.com/
Lynne -
http://slasewcraftiness.blogspot.com/
Michelle Peak -
http://queenofmycraftroom.blogspot.com
Kimberly Pate ~
http://scrappingrookie.blogspot.com
Nicolette-
http://beyondscrapin.blogspot.com
Becky -
http://beckscricards.blogspot.com
Autumn -
http://autumnsbuggycreations.blogspot.com